In the late seventies, I took a trip to Europe. While in Paris, I noticed these strange things on the sidewalks. I wasn't sure what they were but men kept going into them and then they would exit after a short time. These were called pissoirs and they were public urinals for men. Now they actually make them for women and can be found at festivals in Europe complete with paper funnels for the ladies to simulate a man's penis. Here is a great link that shows pissoir designs from all over Europe. Click HERE to see all the latest designs!

---
What else can you see in the images shown? Many times a photo is worth a thousand words and I've only elaborated with a few so why don't you add some "color commentary" to my collection. If your addition is worthy, you will find the quote added on the Comments to the Curator page.


---
Stamp here to "dump" mail to the official Outhouse Curator...

---
Have you seen all the Outhouses yet?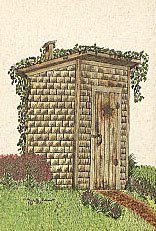 Return to the Outhouse Tour by clicking HERE!


Return to my home page
Return to the Top
RECOMMEND THIS SITE TO A FRIEND!
---
Copyright © 2009


This Page was created on August 8, 2009