A Beautiful Quebec Outhouse
Photo by C. Smart
P. Braley of the Eastern Townships told Ms. Smart about The Outhouses of America Tour website and so she just had enter her "Outdoor Dooley". It was built by her mate as a 1st retirement project and along with the sun/moon earth ball representation, it's roof is a see dome style although you can't see it with all the snow. They can see the stars and moon from all sides. It also overlooks the meadow of their Back 40.

---
What else can you see in the images shown? Many times a photo is worth a thousand words and I've only elaborated with a few so why don't you add some "color commentary" to my collection. If your addition is worthy, you will find the quote added on the Comments to the Curator page.
---
Have you seen all the Outhouses yet?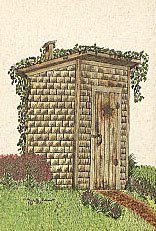 Return to the Outhouse Tour by clicking HERE!
---
Stamp here to "dump" mail to the official Outhouse Curator...


Return to my home page
Return to the Top
RECOMMEND THIS SITE TO A FRIEND!
---
Copyright © 2003


This Home Page was created on August 4, 2003