What a Classic Looking Outhouse!
Photo by S. Thompson
The owner of this Outhouse says they still have this one standing, but not in use. They have another one that they used and that one was a two holer that finally gave out. It is in the back forty and has been taken over by the wild critters (coons). This one is located in Reeseville, Wisconsin out in the country. She thinks they are the only family that has one left in the area. It has been around for the last 30 plus years. When her parents passed away she bought the farm and kept the outhouse and by now it is a real icon. Do you like the half moon and stars she painted on it? She is surprised it has not sunken into the ground.
---
What else can you see in the images shown? Many times a photo is worth a thousand words and I've only elaborated with a few so why don't you add some "color commentary" to my collection. If your addition is worthy, you will find the quote added on the Comments to the Curator page.
---
Have you seen all the Outhouses yet?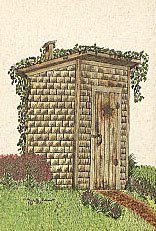 Return to the Outhouse Tour by clicking HERE!
---
Stamp here to "dump" mail to the official Outhouse Curator...


Return to my home page
Return to the Top
RECOMMEND THIS SITE TO A FRIEND!
---
Copyright © 2004


This Home Page was created on February 14, 2004