Adirondack Mountains Ski Trail Outhouse
in the State of New York
Photo from Dave Koschnick - Cohoes, NY
Used by permission

&nbsp &nbsp The photo shown was taken March 17, 2001 on the trail from Newcomb, New York (In the Adirondack Mountains) to Santanoni Great Camp. The camp was built in 1893 and is currently being restored. The rope to hold the door closed is about 3 to 4 feet off the ground so the snow is probably around three feet deep. When you look out the back door and see that much snow it's time to find the chamber pot!
---
&nbsp &nbsp What else can you see in the images shown? Many times a photo is worth a thousand words and I've only elaborated with a few so why don't you add some "color commentary" to my collection. If your addition is worthy, you will find the quote added on the Comments to the Curator page.
---
Have you seen all the Outhouses yet?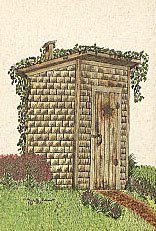 Return to the Outhouse Tour by clicking HERE!
---
Stamp here to "dump" mail to the official Outhouse Curator...

---

Return to my home page
Return to the Top
---
Copyright © 2001
This Home Page was created on July 28, 2001
Most recent revision July 30, 2001