Hemmingway's Summer Cottage Outhouse
Photo contributed by C. Cook
Used by permission
Hemmingway's Summer Cottage Outhouse
Photo contributed by C. Cook
Used by permission
Hemmingway's Summer Cottage Outhouse
Photo contributed by C. Cook
Used by permission
Hemmingway's Summer Cottage Outhouse
Photo contributed by C. Cook
Used by permission
Hemmingway's Summer Cottage Outhouse
Photo contributed by C. Cook
Used by permission
Hemmingway's Summer Cottage Outhouse
Photo contributed by C. Cook
Used by permission
---
Mr. Cook's son-in-law sent him this after vacationing on Walloon Lake. The woman in the photos is Mr. Cook's daughter, clowning for the camera. When they got back from up north on Walloon Lake, they sent the pictures to Mr. Cook. They finally figured out which cottage Ernest Hemmingway spent his summers growing up at (the last photo). They also took pictures of the original outhouse. His sister posted that sign some 30 years ago.

---
What else can you see in the images shown? Many times a photo is worth a thousand words and I've only elaborated with a few so why don't you add some "color commentary" to my collection. If your addition is worthy, you will find the quote added on the Comments to the Curator page.


---
Stamp here to "dump" mail to the official Outhouse Curator...

---
Have you seen all the Outhouses yet?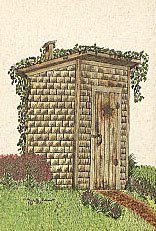 Return to the Outhouse Tour by clicking HERE!


Return to my home page
Return to the Top
RECOMMEND THIS SITE TO A FRIEND!
---
Copyright © 2009


This Page was created on November 2, 2009