An 1820's Outhouse in Northern Virginia
---
Front Side of the 1820's Outhouse
Photo by Andrew McMichael
Back Side of an 1820's Outhouse
Photo by Andrew McMichael
This outhouse, actually called a "necessary," was built sometime during the 1820s, as far as we can tell from the tax records. It is a four-holer, and sits on the property of Thompson Mason III, grandson of American Founding Father George Mason. The two middle doors each house a two-holer, and the outside doors contain a storage room. The property is currently undergoing preservation and renovation. The rear of the outhouse is unremarkable, except for two holes in the middle, at ground level. These would container a "catcher" for waste disposal, and would have to be cleaned periodically. The outhouse and grounds are located in Fairfax County, Northern Virginia, and the property is called Huntley. It is open for visitation twice a year.
[Curator's Comment] One unusual thing about this outhouse and the new 1800's Farm Outhouse on the tour is the stars on the front and back. Do you know why? It appears to be related to the time period that the outhouses were constructed in. Check out the 1800's Farm Outhouse and you'll see another fine example.
[Per the person who gave me these photos, here is his explanation as to what the stars are for:] The stars on the outhouse I sent you are there for structural integrity. I assume it is the same for the 1800s Farm Outhouse. As the building gets older, the brick walls begin to sag in or out. The stars are attached to a bar which runs the width of the structure, and screw on. The screw can then be used to tighten up the walls, bringing them together again. Check older buildings in your area, most have either stars or some variant of them. I'm not sure what happened to the middle-right star. It might have fallen off. The building has caught fire twice due to the neighborhood kids.
What else can you see in the images shown? Many times a photo is worth a thousand words and I've only elaborated with a few so here is your chance to add some "color commentary" to my collection. If your addition is worthy, you will find the quote added on the Comments to the Curator page. You can use Email to respond.
---
Have you seen all the Outhouses yet?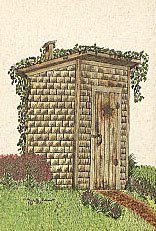 Return to the Outhouse Tour by clicking HERE!
---
Stamp here to "dump" mail to the official Outhouse Curator...

---

---
Copyright © 1997
This Home Page was created on Friday May 9, 1997
Most recent revision May 9, 1997