An 1800's Farm Outhouse in Clio, Michigan
---
Front View of the 1800's Outhouse
Photo by M. Loose
Roof of the 1800's Outhouse
Photo by M. Loose
Inside View of the 1800's Outhouse
Photo by M. Loose
The Outhouse Door
Photo by M. Loose
This outhouse was an interesting discovery by my Mom. She was visiting some friends on their farm and happened to mention my Outhouses of America Tour home page series. The owner of the farm said that he might have just the thing for her and explained how to find this interesting piece of art. She stumbled her way through mud and ruts to a spot not seen very easily. To her amazement, she saw an OLD outhouse. Luckily she carried her camera and proceeded to take several pictures for me. When she went inside, the thing wobbled back and forth. Being in her 80's, it was no easy task to try to stand still and take the pictures inside. She told me when she looked in the hole, she discovered that indeed it was still being used! She also told me that the hole was roughly sawed out and would not like to have to sit down on it!
[Curator's Comment] One unusual thing about this outhouse and the new 1820's Outhouse on the tour is the star on the back near the roof. Do you know why it is a star versus a half moon or something else? It appears to be related to the time period that the outhouses were constructed in. Check out the 1820's Outhouse and you'll see another fine example.
What else can you see in the images shown? Many times a photo is worth a thousand words and I've only elaborated with a few so here is your chance to add some "color commentary" to my collection. If your addition is worthy, you will find the quote added on the Comments to the Curator page. You can use Email to respond.
---
Have you seen all the Outhouses yet?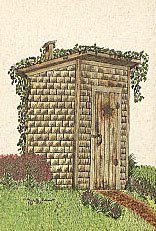 Return to the Outhouse Tour by clicking HERE!
---
Stamp here to "dump" mail to the official Outhouse Curator...

---

---
Copyright © 1997
This Home Page was created on Saturday May 10, 1997
Most recent revision May 10, 1997